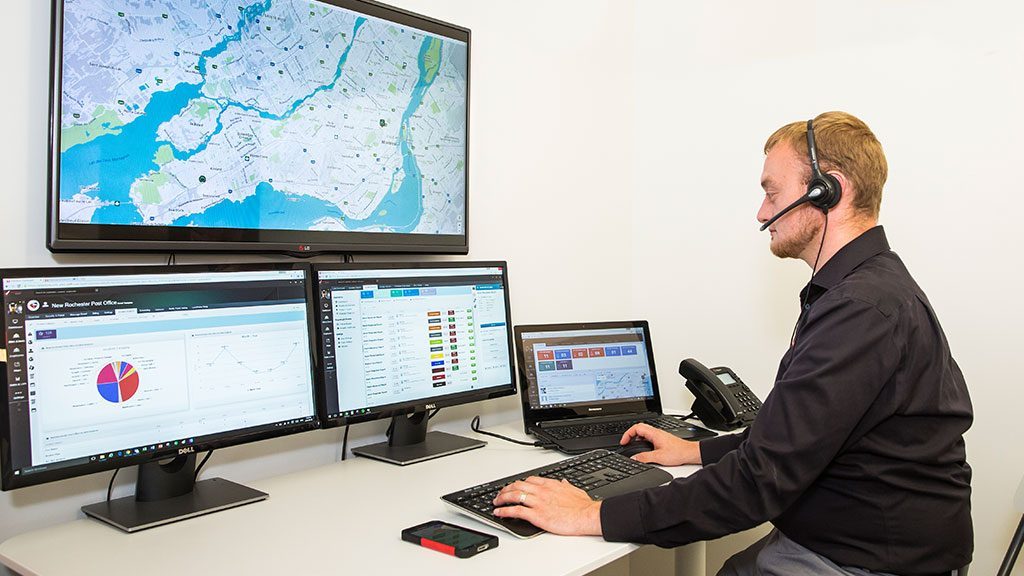 Our company is seeking for an experienced and a dedicated Dispatch Manager to help us maintain the manufacturing flow as efficient as possible. The main responsibility of the manager is to control the warehouse, employees, and also call centers workflow to make sure that everything runs smoothly and efficiently.
The individual will be responsible for making sure that all items are complete and accounted for each delivery and shipment as well as making sure that the delivery would arrive on time. If you are hoping to work in an office environment, this won't be the right position for you. This is an active duty that requires the person to work in call center or warehouse floor directly – this is done to ensure that everything is running as it should. It requires the person to be active – standing for quite a long time or moving and lifting goods. The biggest task is to deal with manufacturing, shipping, and logistics management.
This is basically a supervisory role that involves training new employees and distributing tasks to warehouse staff. This is a position perfect for the perfect candidate thriving well in competitive, busy, and collaborative environment. After all, the manager will have to work with other positions within the supply chain. This is a crucial role in production and overall business setting – and it can be stressful. If you aren't used to challenges or you can't handle the pressure, then this role isn't for you.
Job's Responsibilities and Duties
Recruit, hire, train, and mentor employees. As the supervisor, the manager has a bit of HR positioning element. The manager will take part in interviewing the employees and also on boarding their existence
Create, design, develop, and oversee the efficient workflow. The manager is responsible for coordinating and managing works within the call center and warehouse on a daily basis. it will require constant and continuous communication with senior management and other parties within the supply chain
Create, keep, and maintain employees' productivity records. Since the work in the warehouse is results-oriented, the manager should have its own system for tracking the employee's productivity and performance. It can be disciplining employees as well as firing them, especially those who don't live up to the standard given by the company
Make, keep, prepare, and deliver reports (many types of them) to senior management. It includes providing updates regularly of what is happening in the warehouse and call center. A person with keen eyes and good management skill to keep the detailed log on a daily basis.
Job's Requirements and Qualifications
Possess a good managerial and leadership skill
Able to make priorities of activities
Possess a positive attitude that can inspire, encourage, and support others
Able to identify fresh talents that will be suitable for the position
Have the fluency and knowledge in operating basic computer system, especially for MS Office. A familiarity of other programs will be an advantage
Bachelor degree in Management, Business, or other related fields.
Those who are interested in the vacancy can always send their CV and a resume to: position@elaboratework.com before October 13th.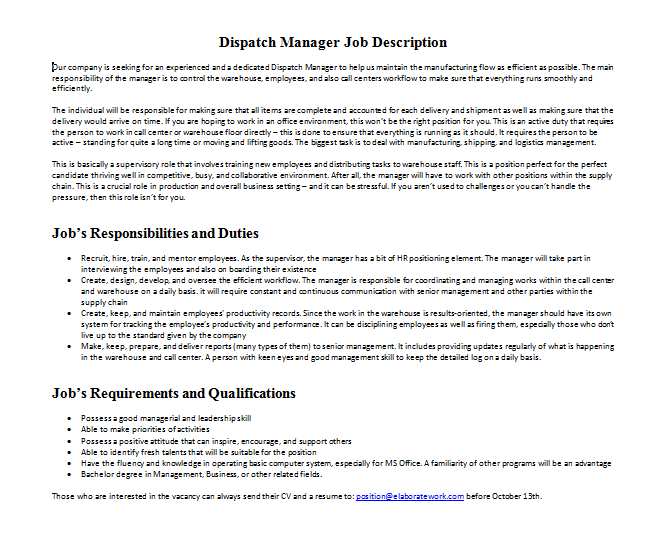 Similar Posts: