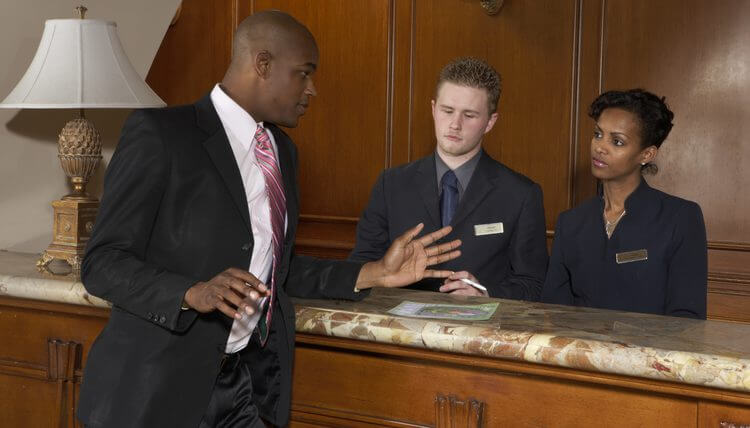 We are a business corporate focusing on quality customer service for those using our accommodations and lodgings. We are proud to say that we are going to launch the seventh hotel in Florida next month. For the matter, we are currently looking for a professional and ambitious Hotel Assistant General Manager to join the team and help with the workload.
The manager will have to report to General Manager directly. The person will be responsible for the entire hotel's operational aspects and elements while trying to provide the needed support to General Manager. The person will work together, coordinate, and direct activities within the hotel to reach the optimum economy and efficiency of the operation. The person will also need to maximize the full potential and ability of each staff and hotel resources with a balanced focus – dedicated for hotel's guests, owner, employees, and mission.
Responsibilities and Duties
Delegate and distribute duties to staff and observe each performance to make sure that they go run along with the established procedures and hotel policies
Help the General Manager in managing the entire operation on the daily basis
Monitor and oversee the guest feedback and reviews on hotel survey or hotel's website – as well as other third party services, such as Trip Advisor and other sites
Provide training and guidance to staff
Act as the public relation director to promote the property in local communities, trade associations, and hotel industries
Choose or help during hotel staff selection. It includes completing the paperwork for all new hire
Receive, resolve, and help General Manager in providing solutions for guests complaints. It includes providing service recovery process
Review the performance as well as conducting personnel actions, like terminations and disciplinary actions
Create, maintain, and manage accurate records, including guest floor limit, direct billing, cash flow sheet, and so much more
Help the General Manager during routine or morning meetings or conducting the meetings to cover the manager
Build loyalty and positive relationship through active setting, management, and communication as well as delivering results
Adhere to company regulations, standards, and also operating procedures
Make sure of the full and total compliance to hotel SOP, operating control, procedures, service standards, and policies.
Perform regular checking and inspection on daily, weekly, and monthly basis
Help General Manager in maintaining issues such as refurbishment, customer service, and capital projects
Requirements and Qualifications
Possess a good management skill to handle different members and personnel
Have a good leadership and keen eyes to identify talents. This is crucial to properly delegate and distribute authority and work to others in order to accomplish the goal
Possess a positive attitude that can inspire and encourage others as well as having a flexible manner to deal with different kinds of people
Able to work in shifts, including holidays, nights, and weekends
Bachelor degree in Hotel Management, Hospitality, Business, or other related fields. A Master degree will be an advantage
Possess a past experience in Hospitality in managerial position or senior level for at least 5 years
Candidates who are interested in the position are welcomed to send their application: a CV and a resume to: position@pealuxury.com.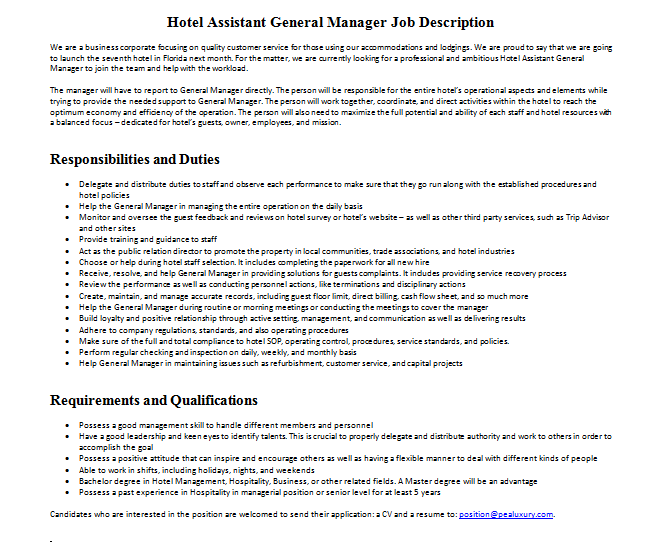 Similar Posts: