Various Designs of Christmas Party Flyer PSD Templates
Create an appealing Christmas party flyer with the pre-designed templates below in this page. These easy to customize flyers are perfect to gain some extra buzz for the party event you're going organize. You can personalize the template as much as you want. These flyers are suitable to print out or to share online. Choose any of the design that you'd like to use and simply get them by downloading for free.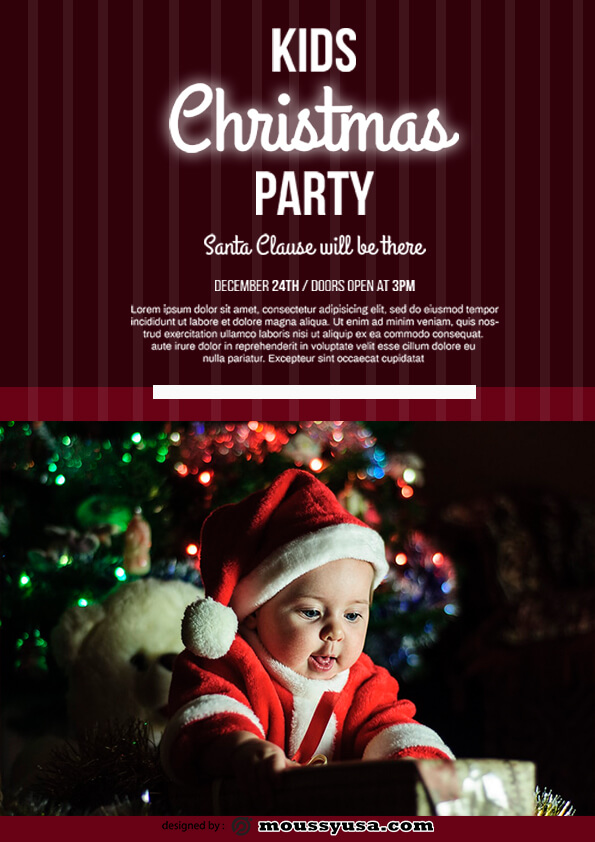 Christmas Party Flyer PSD Templates
Who doesn't love a fun, enjoyable, and well-planned party? It is common for people to throw party to celebrate various holidays, including for Christmas. During the Christmas party event, everyone gets to celebrate the event together as well as the blessings they get throughout the year.
To organize a successful party, it is important to draw your targeted crowd by generating their interests. Sending out notice is an essential part of planning the party. Using an appealing Christmas party flyer that resonates with the wide audience may bring you the attention that you're expecting.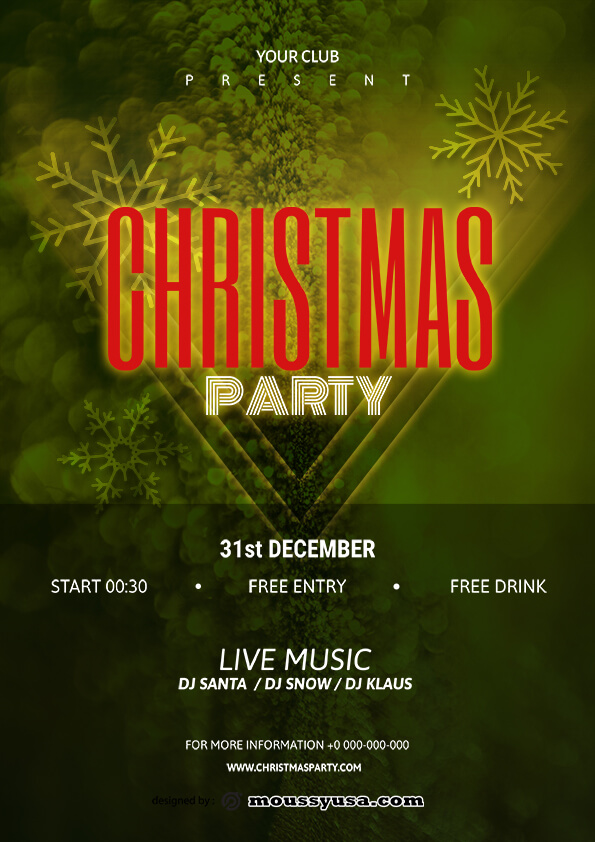 Christmas Party Flyer Designs
There are a lot of design options when it comes to Christmas party flyer, so it is important to choose the one that could convey the tone and vibes you want to create for the event. To avoid boring and misleading choice of template, take a look at the useful tips below.
Determine the ideal size
The most common size for the flyer is A3, A4, and A5. A3 is ideal to use if you need spacious room for the design and meant to put it on the wall. For shareable, handed-out flyer, A4 and A5 sizes are more suitable.
Choose what information to include
Put the information that answers commonly asked questions related to the event, such as 'what', 'when', and 'where'. Highlight the unique or extraordinary features details to make the audience feel attracted. However, make sure the flyer is not overfilled with the text, to prevent it looking cluttered and messy.
Decide the suitable color palettes
Even though it is hard to say what the most suitable color for the flyer, it is best to match with the event. In this case, you're going to make a Christmas themed flyer so you may want to use famous combination of red and green to match with the atmosphere.
Try different flyer designs
Due to the wide range of flyer design selection, you may feel overwhelmed and not sure which one is the best to use. The simplest way to overcome this issue is to test how several designs works and see which one would be the most attractive and appealing for the readers.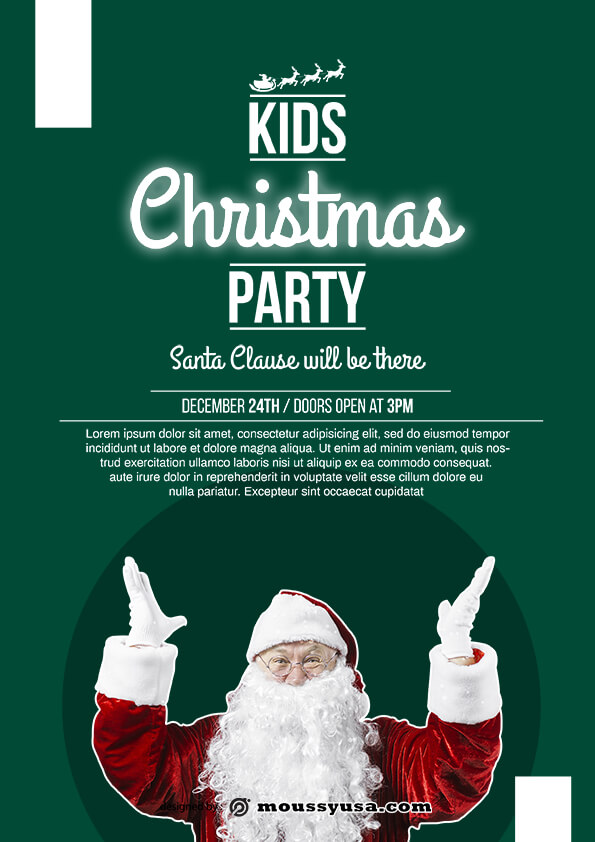 Customizable Christmas Party Flyer
It is totally possible to create an awesome looking flyer even if you don't have much designing skills. With the help of these PSD templates, all you have to do is download and modify them a little bit to make the information correct and accurate.
Get Christmas Party Flyer
Besides Christmas party flyer, you can find more design ideas for holiday flyer templates in this site. There are endless template options for different purposes and occasions to print out or distribute digitally.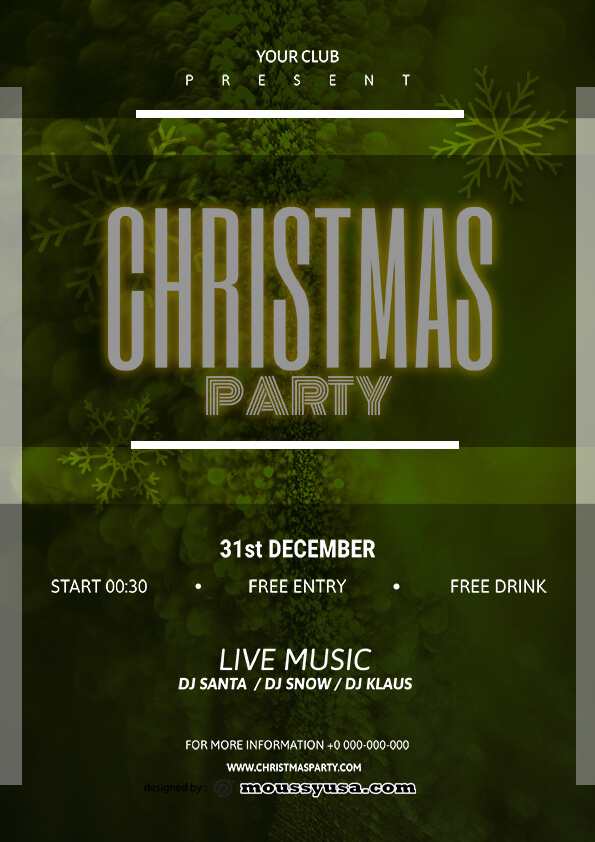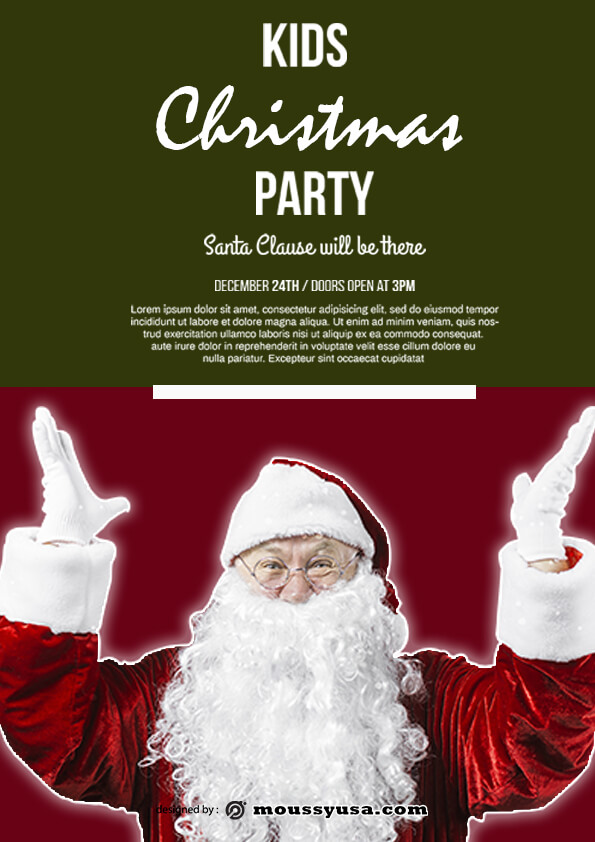 Similar Posts: