When it comes to designing a room, wall décor is a crucial factor that can completely change the atmosphere and visual appeal of the space. Wall stickers have become increasingly popular as a creative and affordable way to add personality and visual interest to any room.
Wall stickers come in various sizes, shapes, colors, and designs, making it easy to find the perfect fit for your space. Whether you want to make a bold statement with a large mural or add a subtle touch of elegance with a small decal, there is a sticker for every style and preference.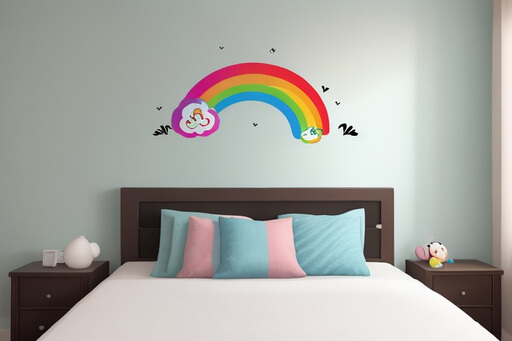 One of the best things about wall stickers is their versatility. They can be used in any room, from the living room to the nursery, and on any surface, including walls, ceilings, and furniture. Plus, they are easy to apply and remove, making them a perfect choice for renters or anyone who likes to switch up their décor frequently.
But wall stickers are more than just decoration. They have the power to transform the entire vibe of a room, giving it a unique personality and creating a cohesive design that ties everything together. From inspirational quotes to abstract patterns, wall stickers can reflect your personality and style in a visually striking way and bring new life to your living spaces.
Why Are Wall Stickers So Popular?
Wall stickers have become a popular choice for those who want to decorate their homes in a fast, affordable, and hassle-free manner. They offer an extensive range of benefits that make them an attractive option for many homeowners. One of the primary advantages of wall stickers is their ability to transform a room's look without investing a significant amount of time, effort, or money. They are easy to install and can be removed without damaging the wall's paint or leaving any residue behind. Additionally, wall stickers come in various designs, colors, and sizes, making them versatile enough to suit multiple decor styles and personal preferences. Overall, wall stickers offer an excellent way to add a touch of creativity and personality to any living space.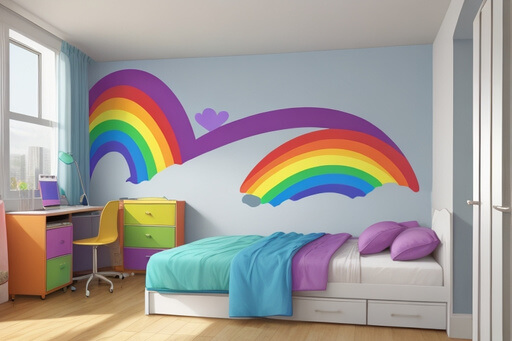 An Easy Update
Upgrade the look of your home without the hassle of painting or making permanent alterations to your walls! Our adhesive stickers are the perfect solution for anyone who wants to transform their living space quickly and easily. With our stickers, you can achieve an instant décor upgrade that will leave your home looking amazing!
Our stickers are designed to be mess-free, hassle-free, and easy to apply. In just minutes, you can have a brand new look to your walls without fuss. Plus, our stickers don't leave any damage on your walls, so you can switch up your décor as often as you like.
So why settle for a dull, outdated living space when you can enjoy an instant upgrade with our adhesive stickers? With a wide range of designs and styles, you're sure to find the perfect stickers to match your style and taste. Get started today and see the excellent results for yourself!
Customization and Creativity
With a vast range of themes, colors, shapes, and sizes, wall stickers allow you to get creative and customize to your taste. Mix and match for a unique look.
Kid and renter-friendly
Stickers are ideal for renters who want to personalize without losing their deposit. And they allow kids to decorate their rooms in a non-permanent way.
Cost Effective
Compared to remodeling or redecorating, wall stickers are budget-friendly. The impact is significant, but the price tag is small.
Types of Wall Stickers
Wall stickers are a great way to spruce up any room in your home. The design options are endless, with everything from inspirational quotes to whimsical patterns available. In terms of materials, you can choose from vinyl, fabric, or even eco-friendly options. When selecting a wall sticker, it's essential to consider the size, color, and style that will work best in your space. By taking the time to choose a wall sticker carefully, you can transform a plain wall into a stunning focal point.
Vinyl
Wall stickers are a popular way to add a personal touch to any room, and vinyl is the most commonly used material. Vinyl stickers are not only affordable but also durable, making them a practical choice for anyone looking to decorate their home or office space. Vinyl stickers are available in glossy and matte finishes, providing a range of options for different preferences. Additionally, vinyl stickers are versatile and work on smooth surfaces, making them easy to apply and remove without residue.
Reusable Stickers
Vinyl stickers that utilize static cling technology rely on the force of static electricity to adhere to surfaces such as walls, windows, and mirrors. They are made with a particular type of vinyl that doesn't have an adhesive, which allows them to be easily removed and repositioned multiple times without leaving any residue or causing any damage to the surface.
These stickers are an excellent option for renters or anyone who wants to add some personality to their living space without making any permanent changes. They come in various designs, sizes, and colors and can be used to decorate walls, windows, laptops, and other smooth surfaces.
Additionally, since they are made of vinyl, they are durable and resistant to fading, making them a long-lasting option for those who want to decorate their living space. Overall, static cling vinyl stickers are a versatile and convenient way to add some flair to any room without the commitment of a permanent design.
Wallpaper Stickers
If you're in search of a practical and affordable way to give your walls a fresh new look, then reusable wall coverings made from removable wallpaper materials might be just what you need. These unique coverings are designed to be both reusable and eco-friendly, helping you to save money and reduce waste at the same time.
Made from high-quality materials, such as vinyl and fabric, these coverings can be easily installed and removed without causing any damage to your walls. They also come in various patterns and designs, allowing you to customize your space to your taste and style.
In addition to being easy to use, reusable wall coverings are an excellent choice for those who want to cover larger wall sections. They can be cut to fit any size or shape, making them ideal for accent walls, backsplashes, and more. With their ability to be reused multiple times, you can change up your decor as often as you like without breaking the bank.
So, whether you're looking to update your living room, bedroom, or home office, reusable wall coverings are a smart and stylish choice to help you achieve the look you want while being kind to the environment.
Fabric
If you're aiming for a subtle and smooth appearance, using fabric stickers can be a great way to add depth and character to your project. These stickers are typically lightweight and can be easily applied without adhesive.
This makes them a versatile and user-friendly option for a variety of applications. Depending on the specific type of fabric sticker you choose, you can achieve different textures and finishes, such as a soft and fuzzy feel or a more rugged, woven texture. Overall, fabric stickers are an excellent choice for anyone looking to add a unique and visually exciting element to their project.
Where to Use Wall Stickers
Wall stickers are versatile enough to enhance any room. Consider these ideas:
Living Room Accents
Strategic stickers over a couch or blank walls can elevate the living room. Try inspirational quotes or floral designs.
One simple and affordable way to spruce up your living room is by using stickers. By placing them strategically around the room, you can add a touch of personality and style to the space. For instance, if you have a couch in the room, you may consider placing a sticker or two above it to create a focal point. Similarly, if you have bare walls that need some attention, stickers can be a great solution.
When choosing the suitable stickers, there are various options to consider. Inspirational quotes and affirmations can be a great way to add some positivity to the room, while floral designs can create a calming and inviting atmosphere. Additionally, you might want to think about the colors and patterns of the stickers you choose, as these can have a significant impact on the overall look and feel of the room.
Overall, stickers can be a simple yet effective way to elevate your living room decor without breaking the bank. With a bit of creativity and some strategic placement, you can transform your space into a cozy and stylish retreat.
Playroom Fun
Transform the playroom into a thrilling and imaginative space by empowering kids to choose from various vibrant stickers featuring their favorite animals, superheroes, and beyond. With countless options at their fingertips, the possibilities for creative expression are endless.
Elevate the playroom experience to new heights of excitement and engagement by allowing children to handpick their preferred stickers from a diverse and captivating selection. Whether drawn to the fierce strength of lions or the awe-inspiring powers of superheroes, kids can choose from a vast array of eye-catching designs that span a broad range of themes and styles.
From the fluttering wings of colorful butterflies to the mysterious depths of the ocean, each sticker is meticulously crafted to capture the imagination and inspire boundless creativity. With the freedom to select from countless options, kids can unleash their inner artist and transform the playroom into a vibrant and dynamic world of their design.
Nursery Style
Transform the walls of a plain nursery into a vibrant and personalized space using wall stickers. These delightful stickers not only add a pop of color but can also be used to spell out the baby's name or incorporate charming motifs that are sure to create a cozy and inviting atmosphere for both the baby and parents.
Bring life to the walls of a dull and uninviting nursery by utilizing the versatile and creative use of wall stickers. These stickers can be an excellent alternative to paint as they are easy to apply and remove and come in various colors and designs. You can spell the baby's name in large, bold letters or add sweet and playful motifs such as cute animals, flowers, or stars to create a fun and inviting atmosphere. These wall stickers are not only functional but also safe for your baby. It is an excellent way to add personal touches to your baby's space without compromising safety or style.
Kitchen Organization
Vinyl stickers are a highly functional and versatile tool for keeping your kitchen neat and organized. These adhesive labels can be used for various purposes, such as labeling jars and containers with the names of their contents or marking expiration dates to ensure your food stays fresh. They can also be visual reminders for daily tasks like taking out the trash or unloading the dishwasher.
But vinyl stickers are not just practical – they can also add a decorative element to your kitchen. With many designs and colors available, you can choose stickers that match your kitchen's décor or add a pop of color to an otherwise bland space. Some popular sticker designs include floral patterns, food-related images, and motivational quotes.
The best part is that vinyl stickers are easy to apply and remove, making them an ideal solution for renters or those who like changing their décor frequently. With vinyl stickers, you can keep your kitchen tidy while adding a personal touch to your space.
Office Motivation
A well-designed office that incorporates inspiring quotes and visually stimulating images can have a positive impact on employee morale and productivity. By selecting sections that are encouraging and empowering and pictures that are aesthetically pleasing and meaningful, the office environment can become a more uplifting and inspiring place to work. The use of motivational quotes and photos can help to create a sense of community among employees, foster creativity, and promote a positive work culture.
Bathroom Refresh
Revamp your bathroom quickly and effectively with these durable, waterproof vinyl stickers designed to withstand the humid and wet conditions of a bathroom. These stickers are easy to install and can be applied to various surfaces, including tiles, mirrors, and cabinets, allowing you to customize your bathroom's decor.
With various designs and patterns, you can give your bathroom a stylish and personalized touch that will last for years. Say goodbye to messy and expensive renovations and hello to a hassle-free and cost-effective way to upgrade your bathroom.
Style Tips and Tricks
Use these tips to make the most of wall stickers:
Combine sets of stickers for a coordinated look.

Layer stickers over existing décor like prints or paintings.

Arrange in geometric or asymmetrical patterns for interest.

Mix solid colors with patterns for visual depth.

Change it up regularly by rearranging stickers to keep the look fresh.

Use large stickers to make a bold statement.

Add dimension with shaded or metallic stickers.
Take Your Space to the Next Level
Wall stickers offer an easy, creative, and affordable option to enhance any space instantly. With the rising variety of themes and materials now available, the possibilities are truly endless. Give your rooms a quick makeover and enjoy a transformed look with stylish stickers today!
Shop Wall sticker at https://www.etsy.com/market/wall_stickers
Similar Posts: