Bathroom wall mirrors are indispensable to any bathroom's design and functionality. More than just a reflective surface for checking your appearance, the right bathroom mirror can enhance lighting, open up small spaces, create the illusion of size in tight quarters, complement your style, and simplify routine tasks like shaving, applying makeup, and styling your hair.
With an overwhelming array of options available today in shapes, sizes, styles, and features, selecting the ideal bathroom mirrors to meet your needs can be daunting. This comprehensive guide covers everything you need to know when shopping for bathroom wall mirrors to make the process easy.
Bathroom Mirror Basics
Before delving into the different types of bathroom mirrors, here are some primary considerations:
Size: Measure your space, sinks, and vanities carefully to ensure the mirror(s) fits well. Account for light fixtures and other obstructions.

Placement: Determine the optimal wall space for mounting mirrors, factoring in sink and vanity locations, window placement, and focal points.

Lighting: Consider how surrounding light sources interact with the mirrors for tasks like shaving and makeup application.

Style: Choose mirror shapes, frames, and designs that align with your existing bathroom's aesthetic—modern, traditional, transitional, etc.

Features: Decide if you want added features like anti-fog, backlighting, shelving, etc., based on your needs.

Budget: Bathroom mirrors span a wide range of pricing and quality levels. Set realistic expectations.

Professional Installation: Hire a pro for safety and proper mounting for large, heavy, or tricky placements.
Types of Bathroom Wall Mirrors
Bathroom mirrors come in diverse shapes, sizes, and styles. Here are some of the most popular types to consider:
Rectangle/Square Mirrors
The most classic and versatile shape, rectangular or square mirrors, work well centered over a sink or anywhere you need simple, clean lines. Opt for larger sizes to expand small spaces or dramatic floor mirrors to anchor an entire wall.
Considerations:
Available in many sizes, materials, and price points

Can be styled formally or casually

Easy to integrate into varied decors

Large sizes are best mounted vertically

It may lack the character of ornate frames
Oval Mirrors
An oval mirror softens traditional bathroom lines with graceful curves. Place over sinks or use freestanding oval full-length mirrors to add elegance.
Considerations:
Soften hard corners and add dimension

Complement vintage or traditional aesthetics

Visually expand smaller spaces

Offer a delicate, artistic sensibility

Prone to chipping if frameless
Arch-top mirrors
Mirrors with arched tops complement traditional bathrooms. The soft curve adds architectural interest and gives a beautiful frame effect.
Considerations:
Sophisticated traditional style

Draw the eye upward, adding height

It can be embellished with crown molding frames

Provide contrast to rectangular vanities

Will stand out in ultra-modern settings
Round Mirrors
From delicate sunburst designs to large, dramatic circles, round bathroom mirrors make eye-catching focal points over pedestal sinks or in corners.
Considerations:
Make a bold style statement

Vintage-inspired motifs like sunbursts

Can feel playful, inviting, or serious

Visually expand tight spaces

May conflict with linear designs
Hexagonal and Octagonal Mirrors
For an unconventional shape that adds a modern or contemporary edge, hexagon and octagon mirrors offer an artistic update. The angular lines suit bold, graphic bathrooms.
Considerations:
On-trend modern geometrical style

Make a unique focal point

Layer with other angular designs and textures

Can clash with traditional sensibilities

Difficult to hang flush on the wall
Medicine Cabinet Mirrors
Marrying form and function, built-in medicine cabinets with mirrors keep toiletries organized while saving space. Choose surface-mount or recessed installation.
Considerations:
Dual purpose for storage and reflection

It is excellent for small bathrooms

Some feature electrical outlets

Door hinges, and shelves may obstruct the view

Suspended can be tricky for DIY install
Backlit LED Mirrors
LED lighting framed into the mirror provides perfect task lighting. Options include light color temperature settings and anti-fog features.
Considerations:
Cast soft, even lighting for grooming

Ambient light brightens up the space

Built-in lights eliminate the need for sconces

It can come with dimmers and color-changing settings

More expensive than regular mirrors
Mirrors with Storage
Look for mirrors that double as hidden storage to neatly tuck away bathroom essentials. Options include cabinets behind or shelving around the reflection.
Considerations:
Maximize space by merging storage and mirrors

Conceal clutter like cosmetics and medications

Built-in shelves provide display space

Adds functionality without compromising style

Delicate shelves may not hold much weight
Framed Mirrors
Frame your bathroom mirror in wood, metal, or another material to create a focal point. Choose ornate vintage frames or sleek modern versions to match your style.
Considerations:
Frames add prominence and decorative flair

Complement or contrast with cabinetry finishes

Vast possibilities, from salvaged barn wood to gilded gold

Narrow frames maintain visibility

Intricate frames collect dust
Beveled Mirrors
For added dimension, beveled mirrors have a slightly slanted edge that refracts light. The angled design adds visual interest.
Considerations:
Unique aesthetic for accent mirrors

Catch and reflect light in an appealing way

Adds depth versus flat mirrors

Beveled edges are prone to chipping

It can distort images slightly
Mirrored Cabinets
Find combined solutions in mirrored cabinets with reflections and shelves or medicine cabinets behind doors to organize toiletries.
Considerations:
Convenient all-in-one storage and mirror

Recessed or surface mount installation

Integrated lighting in some models

Door hinges can interrupt the mirror view

Recessed versions are complex for DIY
Bathroom Mirror Sizes
Bathroom mirrors come in various sizes, from small 20″ x 30″ vanity mirrors to large mirrors covering entire walls. When selecting the ideal size, measure your space carefully and account for sink and light fixture placement.
Oversized Mirrors
Maximize small bathrooms by installing an oversized mirror for the illusion of a larger, airier space. For tiny powder rooms, choose mirrors that cover the entire wall.
Considerations:
Visually expand tight spaces

Allow more people to use the mirror at once

Enable you to stand back and view the entire look

Make sure the mounting location can support heavy-weight

It can be cost-prohibitive for custom-sized
Double Vanity Mirrors
Look for pairs of mirrors in coordinated or unmatched styles for dual-sink vanity tops. Spanning the length of the vanity, two same-sized rectangles or ovals work well.
Considerations:
Essential for his and her double vanities

Create symmetry for a polished look

Mix and match shapes and frame styles as desired

Make sure frameless mirrors have polished edges

Measure precisely between faucets and walls
Extending Mirrors
Look for extending mirrors that increase in size with the flip of a switch. Perfect when you need a more extensive reflection for styling but a compact mirror day-to-day.
Considerations:
Provides flexibility with movable panels

A retracted position saves space

Check that the maximum extended width fits the space

Can be prone to jamming or mechanical issues

Avoid positioning over sinks or fixtures
Full-Length Mirrors
Classic full-length mirrors run from floor to ceiling for head-to-toe viewing. For small bathrooms, choose slimmer full-length mirrors mounted vertically.
Considerations:
Enable viewing of the entire outfit

Slim vertical positioning maximizes small spaces

Heavier than regular mirrors, require reinforced mounting

Floors must be level for flush-mount placement

It can feel voyeuristic for some when facing inward
Sink-Size Mirrors
Standard bathroom mirrors measure 20–30 inches wide and 30-36 inches tall, tailored to the scale of most sinks—size to your specific vanity width.
Considerations:
Default dimensions for above-sink use

Budget-friendly standard option

Easy-to-find frameless or simple frames

Too small for double vanities

Limited positioning flexibility
Bathroom Mirror Placement
Where you place your bathroom mirror depends on the size and layout of the space. Here are some top tips for optimal mirror placement:
Over the Sink
Centered directly over the sink, a bathroom mirror is ideal for washing your face and shaving. Ensure it's large enough to reflect your entire face and unobstructed by fixtures.
Across from the Sink
Positioning the mirror across from the sink lets you capture your entire body reflection while maintaining easy visibility of the face for grooming.
On the back wall
For small powder rooms, an oversized mirror covering the entire back wall opens up the space and provides ample reflective surface for multiple users.
Above-Vanity Lighting
Mirrors mounted high, reaching right up to the ceiling, make rooms feel taller. Place it above a vanity light fixture so illumination shines up indirectly.
Near Windows
Natural lighting paired with mirrors maximizes brightness. Place mirrors near windows to amplify the sun.
On the Opposite Wall from the Windows
To evenly distribute natural and artificial light, position mirrors on the wall opposite windows and complement them with wall sconces or pendant lights.
Focal Point
Use a dramatic round, oval, or arch-top mirror over a freestanding sink or bathtub as a bold focal point in an open-concept bathroom.
Mirrored Corner
Take advantage of wasted space and brighten dark corners with a trifold or rounded mirror installed in the corner.
Slanted Ceiling
For attic bathrooms with slanted ceilings, look for adaptable mirrors to angle and tilt the glass panels.
Bathroom Mirror Frames
Mirrors can be purchased without any frame or adorned with various frame materials and finishes that complement your bathroom's decor.
Metal Frames
Thin and streamlined, metal frames like stainless steel, brushed nickel, oil-rubbed bronze, and chrome add definition around mirrors with a hint of luster.
Wood Frames
Warm wooden frames range from minimalist thin strips to chunky, rustic beams that make a style statement—stained, white-washed, and painted options.
Molding Frames
Classically elegant, molding frames resemble picture frame details with ornately carved edges. They are crafted from wood, resin, or foam.
Mirrored Frames
For a seamless reflective look, choose bathroom mirrors framed in mirrored panels. The mirrored edges expand the feeling of space.
Colorful Frames
Make your mirror pop with vibrant colors like ruby red, navy blue, dark emerald, or metallic champagne frames for an artistic accent.
Creative Frames
Look for creative frames using materials like driftwood, sea glass, pressed flowers, painted terra cotta tiles, or ribbon for a one-of-a-kind style.
Bathroom Mirror Lighting
Proper lighting is essential for bathroom mirrors to provide optimal visibility. Illumination paired with mirrors enhances brightness.
Wall Lights
Mounted horizontally on either side of the mirror or vertically flanking, sconces provide direct illumination, making them ideal for tasks like applying makeup.
Ceiling Lights
Overhead lighting like chandeliers, pendants, or flush mounts paired with mirrors reflects light evenly around the space.
Vanity Lights
Strip lighting integrated into the top of bathroom vanities casts soft, shadow-free lighting upwards across faces.
Natural Light
Place mirrors near windows or skylights so plentiful sunshine reflects off the surface, filling the bathroom with light.
Backlit Mirrors
LED lighting behind a mirror provides perfect task lighting for shaving, makeup, and hair styling without shadows or glare.
Hollywood Mirrors
Surround mirrors with small bulbs like Hollywood makeup mirrors for optimal face visibility, minus harsh shadows.
Mirrored Sconces
Fixtures with mirrored backplates reflect even more light when positioned on the sides of the central mirror.
Bathroom Mirror Styles
Beyond the frame, base material, and size, bathroom mirrors showcase gorgeous styles, from sleek contemporary to ornate antique-inspired.
Modern
Clean lines, geometric shapes, and metallic finishes like chrome give bathroom mirrors a sleek, modern sensibility.
Transitional
Split the traditional and contemporary differences with transitional mirrors featuring simple molded frames and straight lines.
Contemporary
Make a unique contemporary statement with unconventional ovular, diamond, starburst, or asymmetric mirrors.
Traditional
Ornate frames, arched tops, and carved accents mirror old-world traditional charm. Display the Crest family initials.
Coastal
Driftwood frames, rope trim, and sunburst designs reflect laidback coastal style in breezy bathroom mirrors.
Farmhouse
Rustic farmhouse mirrors made from unfinished wood beams, galvanized metal, or distressed frames add country flair.
Victorian
Intricately carved wooden frames decorated with beads, jewels, and candle sconces deliver romantic Victorian luxury.
Vintage
Ornate antique mirrors, mercury glass details, and gilded gold frames channel Gatsby-era glam with vintage reproduction style.
Special Features
Beyond the basics, upgraded bathroom mirrors offer helpful bonus features for added convenience.
Defoggers
Integrated defoggers in LED backlit mirrors prevent fogging up during steamy showers and baths, ensuring visibility.
Adjustable Magnification
Get an up-close view while shaving and applying makeup with mirrors that let you adjust the magnification.
Voice Activation
Hands-free voice-activated mirrors respond to commands like "Turn on left side lights" for convenient control.
Bluetooth Speakers
Listen to music or podcasts as you get ready with integrated Bluetooth audio in intelligent mirrors.
Digital Screens
High-tech mirrors double as monitors for viewing time and date, weather forecasts, your calendar, and more.
Motion Sensors
With built-in motion sensors, bath mirrors automatically illuminate when you enter the room; there is no need to fumble for a switch.
Charging Stations
Never run out of power halfway through your morning routine with USB outlets built into mirrors for device charging.
Anti-fog
Prevent foggy mirrors during and after steamy showers with integrated heating technology or an anti-fog coating.
Tilt Adjustment
Some mirrors allow tilting and angling for the perfect customizable view, depending on the ceiling height.
Bathroom Mirror Installation
Installing bathroom mirrors properly ensures they mount securely and stay safely in place for the long haul. Here are some bathroom mirror mounting tips:
Secure to Studs
For the most secure support, fasten bathroom mirrors directly to the wall studs behind the drywall. Use a stud finder to locate studs.
Reinforce Drywall
If you are attaching a very heavy mirror but cannot align it with wall studs, install plywood behind the drywall first to reinforce it.
Hang Vertically
When possible, hang mirrors vertically, following the wall studs, rather than horizontally, which lacks strength.
Mirror Hangers and Clips
Adhesive mirror mounting clips, toggles, or hooks designed for mirrors take the guesswork and frustration out of hanging.
Cleat Hanging Method
Mount a horizontal wood cleat secured to studs for large mirrors, then hang the mirror on the cleat.
D-ring Hangers
D-rings offer another sturdy mounting option. Install on the mirror back, then secure rings over screws in the wall.
Bottom Supports
Install extra brackets at the base of floor-length mirrors for added reinforcement so the weight doesn't pull mirrors out of the wall.
Built-in Shelving
If shelving or a medicine cabinet is integrated into the mirror framing, ensure the cabinet box is securely fastened to studs.
Professional Help
Don't risk damage; hire a professional installer for heavy mirrors or tricky layouts.
Check Levels
Use a level during installation to ensure the mirrors mount flush. Shim, if needed, to even any gaps.
Bathroom Mirror Maintenance
Preserve the brilliance and clarity of your bathroom mirrors with proper care and cleaning.
Microfiber Cloths
Use a soft, lint-free microfiber cloth to dust and clean mirrors. Paper towels scratch the surface.
Dry Immediately
Always thoroughly dry the entire mirror surface after cleaning to prevent water spots and streaks that build up over time.
Avoid Steam
Prevent damage to mirror surfaces from the direct hit of steam from showers. Consider exhaust fans or strategic mirror placement.
Squeegee
Use a squeegee on the mirror surface immediately after steamy showers and baths to instantly wipe down condensation.
Demisting Products
Apply demisting sprays or shaving cream to bathroom mirrors before showering to prevent them from fogging. Rinse off after.
Check Sealant
Ensure any sealant or silicon around the edges of installed mirrors remains waterproof. Reapply if needed to prevent moisture damage.
Frame Maintenance
Dust intricate frame details regularly, and use touch-up paint or restaining as needed on wooden frames to maintain their beauty.
Shop Bathroom Mirrors
Now that you know what to look for in the perfect bathroom mirror, it's time to start shopping. Here are some of the top retailers offering a stellar selection of bathroom mirrors:
Lowe's
Lowe's extensive selection includes framed and frameless mirrors ranging from small vanities to oversized statement mirrors. All installation types are accommodated.
The Home Depot
Find top-rated bathroom mirrors in all sizes and designs at Home Depot. Helpful filters by shape, width, theme, and special features simplify shopping.
Wayfair
Wayfair offers the most extensive assortment of bathroom mirrors in every style imaginable, from modern to farmhouse to traditional to rustic and beyond. Great pricing.
Bed Bath and Beyond
Browse an elegant array of bathroom mirror shapes, sizes, and finishes. Smaller vanity mirrors start at under $50. Installation services are available.
Overstock
The Overstock bathroom mirror collection offers stylish designs at affordable discounts—oval, circle, rectangle, and square shapes are in stock.
Joss & Main
Find an elevated style from this premium retailer showcasing ornate framed mirrors, backlit options, and medicine cabinets with built-in mirrors.
Rejuvenation
Rejuvenation's vintage-inspired bathroom mirrors take you back in time with Victorian, Art Deco, and French Country designs crafted to last.
Anthropologie
Make a whimsical statement with Anthropologie's charming mirrors, ranging from sunbursts to painted flowers and colorful bamboo frames.
eBay
eBay is a treasure trove for finding unique vintage and antique bathroom mirrors, with free shipping on many items. Great deals abound.
Etsy
Talented artisans on Etsy craft custom bathroom mirrors in any shape, material, and style imaginable, from minimalist to maximalist.
Bathroom Mirror Ideas
Need inspiration for styling bathroom mirrors? Here are some gorgeous ways to incorporate mirrors into your bathroom design:
Dramatic Double Sinks
For his and her sinks, hang two stunning rectangular beveled mirrors in matching black wood frames above each vanity. Striking and symmetrical
Above Bathtub
Position a massive circular or oval mirror above a standalone tub to amplify natural light and give the illusion of a much larger space.
Flanking Window
Vertically hang slim, narrow, elongated mirrors on either side of a window to beautifully reflect and distribute sunlight.
Clustered Cube Style
Arrange a cluster of framed square mirror "tiles" in varying sizes on a wall for an artistic, gallery-style aesthetic.
Frameless Illusion
Install a frameless rectangular mirror from floor to ceiling, trimmed with wood at the bottom, to look like it's floating magically on the wall.
Mirrored Mosaic Backsplash
Use small mirrored rectangles to create a gorgeous mosaic backsplash under wall-mounted rectangle mirrors for double the reflective sparkle.
Minimalist Grid
Line up four matching square mirrors in a simple, clean grid pattern to amplify brightness and act as the focal point.
Above Backlit Niche
Install a rectangular bathroom mirror above a glass-fronted wall niche backlit with LED lighting. The glow reflects beautifully off the mirror.
Rustic, Salvaged Accent
Incorporate old-world character by mounting a salvaged antique gilt oval mirror atop a bathroom's shiplap wood accent wall.
Mirrored Medicine Cabinet
Make a medicine cabinet disappear seamlessly into the wall with a door-mounted mirror matching the wall mirror style and finish.
The Right Bathroom Mirror Reflects Your Style
With limitless options for shapes, sizes, materials, and unique features, it's easy to find the perfect bathroom mirrors to match your home's aesthetic and meet your lighting, storage, and functionality needs. Use this comprehensive guide to shop for and install beautiful and versatile mirrors confidently. Let your mirrors stylishly reflect the look you love.
Reflecting Elegance: Contemporary Bathroom Mirror Designs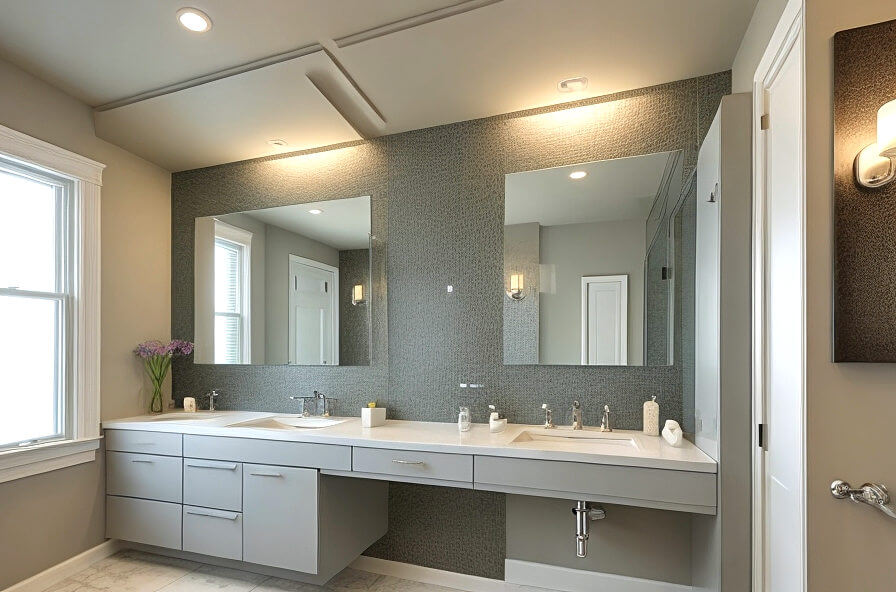 Contemporary bathroom mirrors feature clean lines and minimalist styles to create an elegant, relaxing oasis. Go frameless for a sleek look, or choose simple metal frames in satin nickel or matte black. Backlighting creates a spa-like ambiance. Consider custom-cut mirrors for a built-in look. Add shelving and sconces for an integrated style.
Mirror Magic: Transforming Your Bathroom with Stylish Wall Mirrors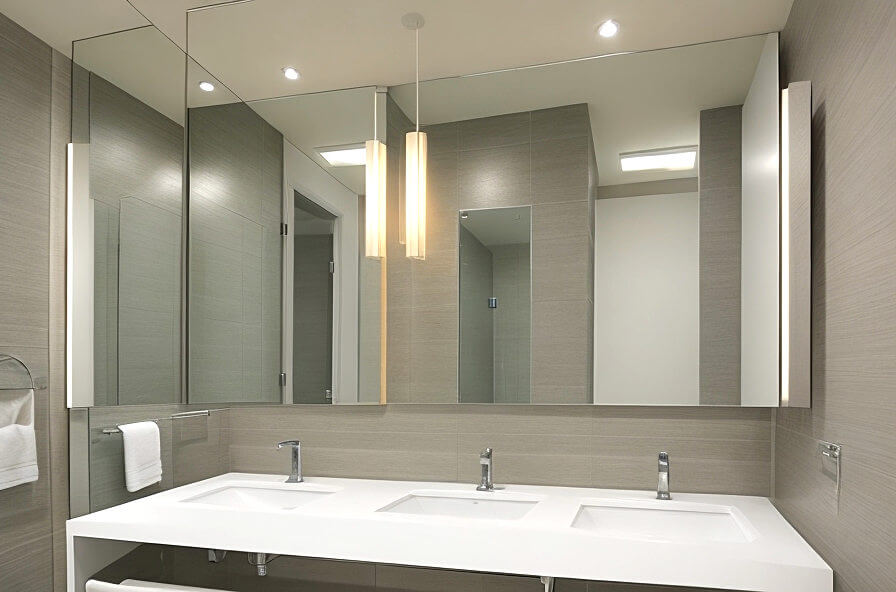 Creative mirror styles can completely transform the look and feel of your bathroom. Go bold with unique shapes like circles, curves, or asymmetry. Incorporate mirrors into tile patterns on walls. Use mirrors to accent specific areas, like framing the vanity. Connect multiple mirrors for artistic flair. Play with lighting effects by adding sconces or positioning spotlights. Choose materials like antique glass for an old-world style. Let mirrors be the focal point to change up your bathroom aesthetic.
Frameless Wonders: Sleek and Modern Bathroom Mirror Ideas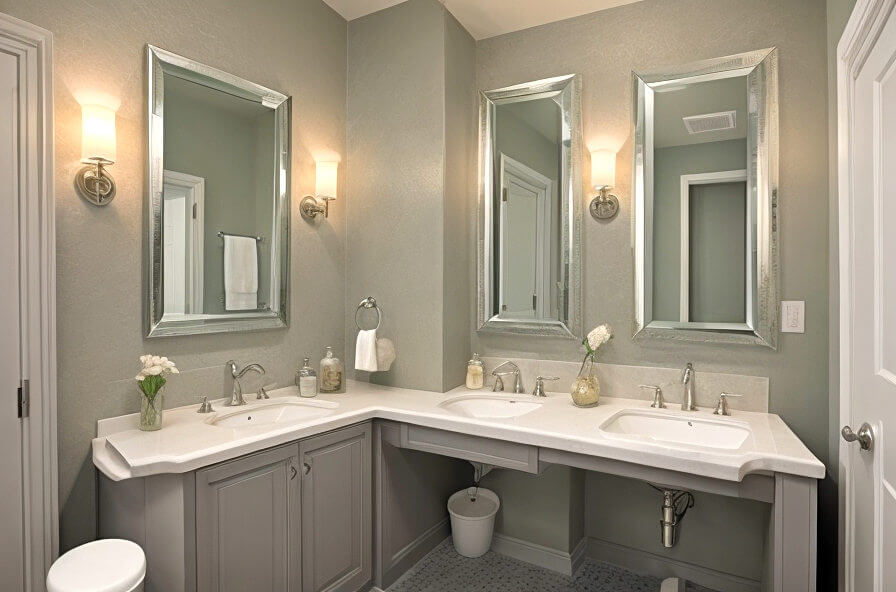 Frameless mirrors have a sleek, contemporary look that is perfect for modern bathrooms. They create an uninterrupted reflective surface that feels clean and spacious, positioned over vanities as a gorgeous centerpiece. Use frameless mirrors on shower walls to open up small spaces. Extend the ceiling to the floor for a majestic spa look. Backlight with LED strips to add a luxurious touch. Choose custom sizes and shapes to match your bath design. Frameless mirrors deliver a seamless, stylish statement.
Mirror, Mirror on the Wall: Inspiring Bathroom Reflections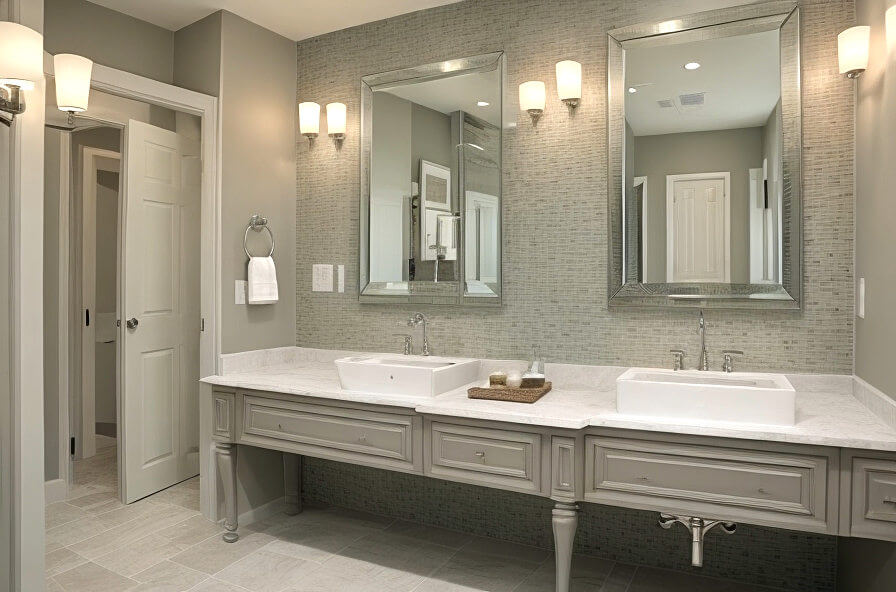 Bathroom mirrors can serve as stunning decorative focal points. Look for unique shapes, like sunbursts or ovals. Distressed mirrors impart vintage charm. Creative arrangements, like a wall grid of circular mirrors, feel artistic. Incorporate natural elements like driftwood frames or textured stone borders. Warm-up mirrors with wood accents in plank, reclaimed, or rustic styles. Use them to highlight specific areas, like the vanity sink. Take mirrors off the wall and lean against backsplashes for a casual look. Thoughtfully placed mirrors create an inspiring bathroom reflection.
Vintage Vibes: Timeless Charm in Bathroom Wall Mirrors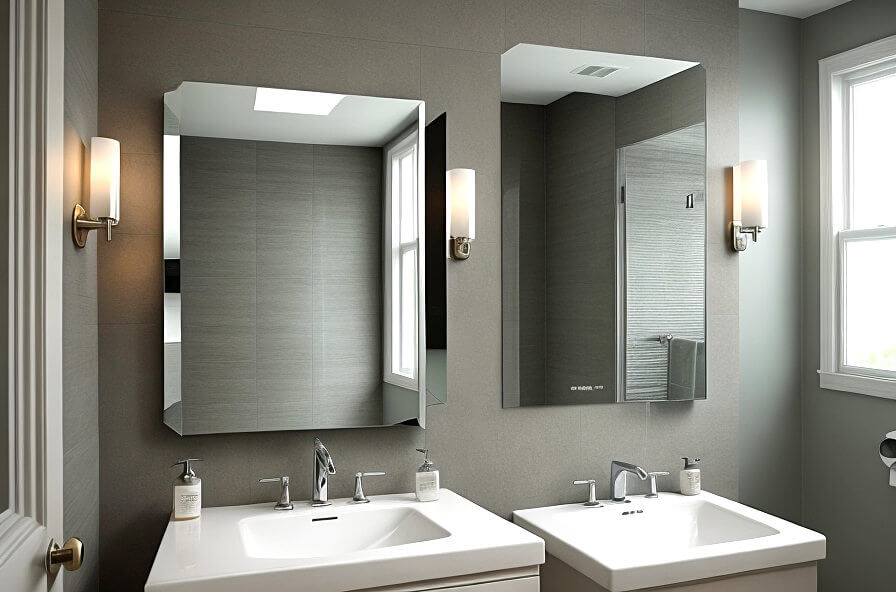 Look for mirrors with delicately carved details, scalloped edges, or floral embellishments. Weathered glass has an heirloom look. Arrange sets of differently shaped mirrors for old-world characters. Incorporate framed mirrors into classic tile designs. Place a standalone oval mirror on a console table for a traditional yet fresh look. Vintage vibes in your bathroom mirror bring enduring and effortless style.
Illuminating Spaces: Mirrors that Light Up Your Bathroom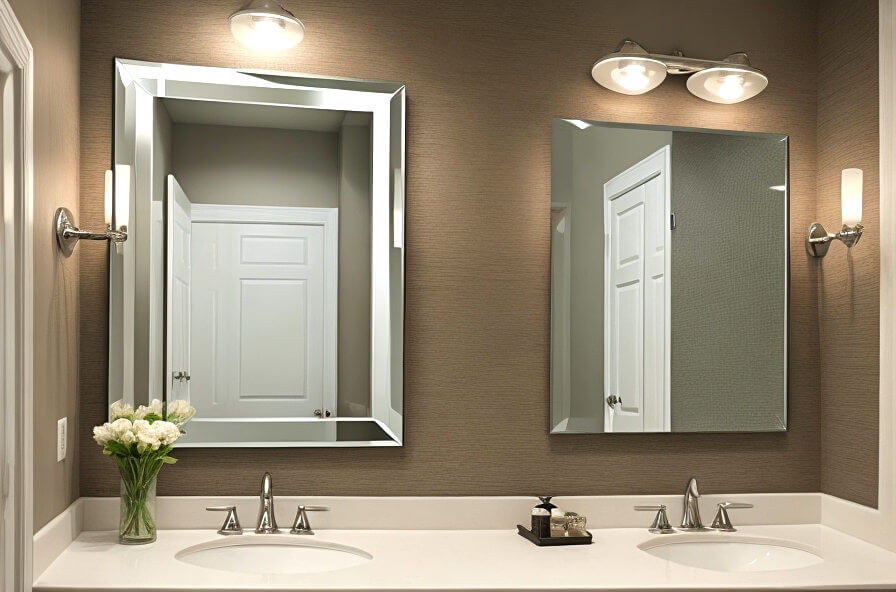 One of the most stylish upgrades for any bathroom is a lighted mirror. Install sconces, LED strips, or spotlights around mirrors to illuminate spaces with a warm, welcoming glow. Light up mirrors above vanities for task lighting. Use backlighting in a frameless mirror for a contemporary ambiance. Opt for intelligent mirrors with advanced lighting features like color change, dimming, and motion activation. Install a Hollywood mirror with integrated lights ideal for makeup application and grooming. Well-lit mirrors can make small bathrooms feel more expansive and luxurious.
Mirror, Mirror: A Gallery of Unique Bathroom Wall Mirrors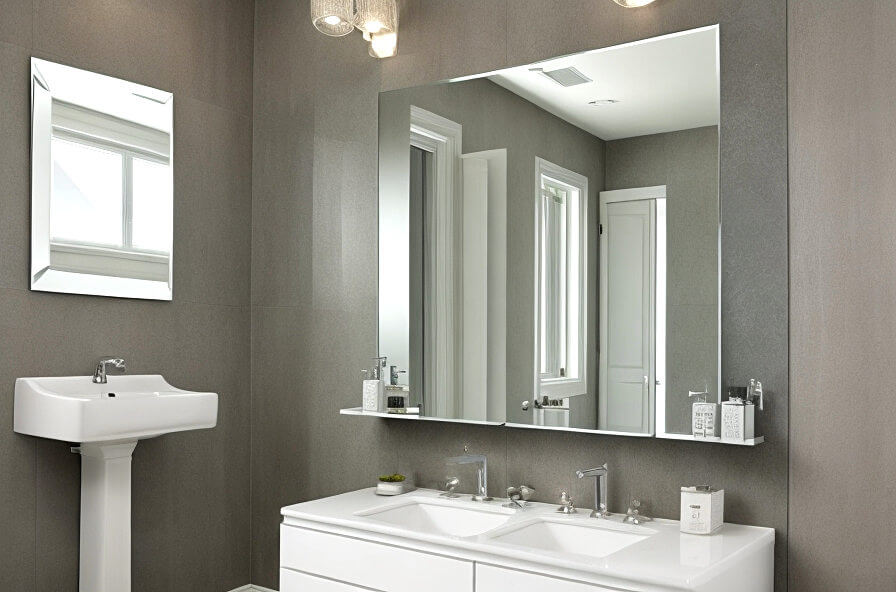 Choose a unique focal point design to take your bathroom mirror from basic to beautiful. Go for asymmetrical, arched, starburst, or circular shapes. Faceted mirrors refract light in creative ways. Incorporate natural materials like driftwood, bamboo shoots, or stone. Display a collection of different-shaped mirrors on one wall for artistic flair. Use mirrors to enhance specific areas, like framing the shower. Look for mirrors with storage cabinets built right in for extra functionality. Let your mirror reflect your unique personal style.
Beyond Reflection: Artistic Touches in Bathroom Mirror Decor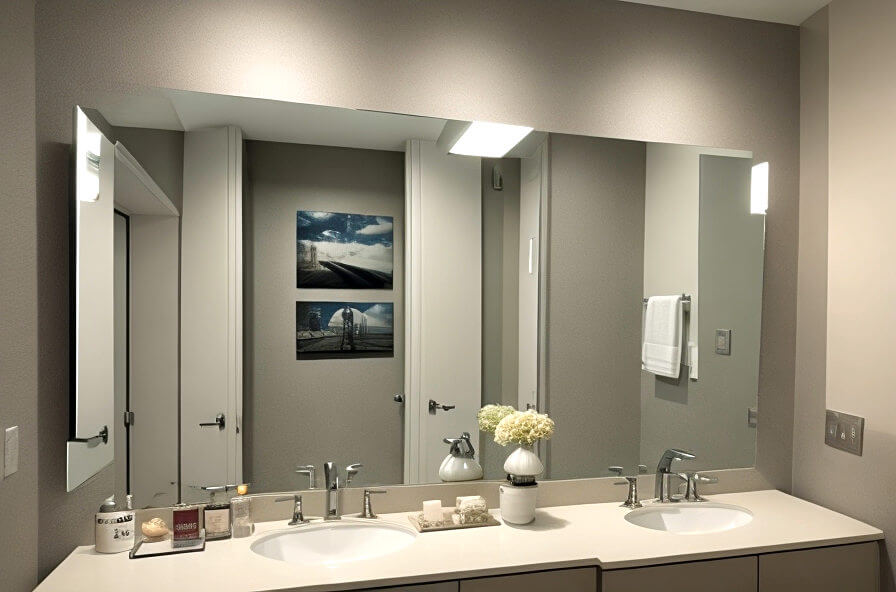 Elevate an ordinary bathroom mirror into a decorative work of art. Look for frame designs with architectural shapes, sculptural curves, or ornate details. Incorporate natural wood frames and live plant accents for an earthy vibe. Use lighting elements like sconces, lanterns, or Edison bulbs to add ambiance. Arrange a combination of round and rectangular mirrors to form attractive asymmetrical collages. Install mirrors behind open-frame room dividers for an artsy look. Get creative with mirror placement, size, shape, framing, and lighting to turn functionality into artistry.
Luxury in Every Detail: Upscale Bathroom Wall Mirrors for Modern Living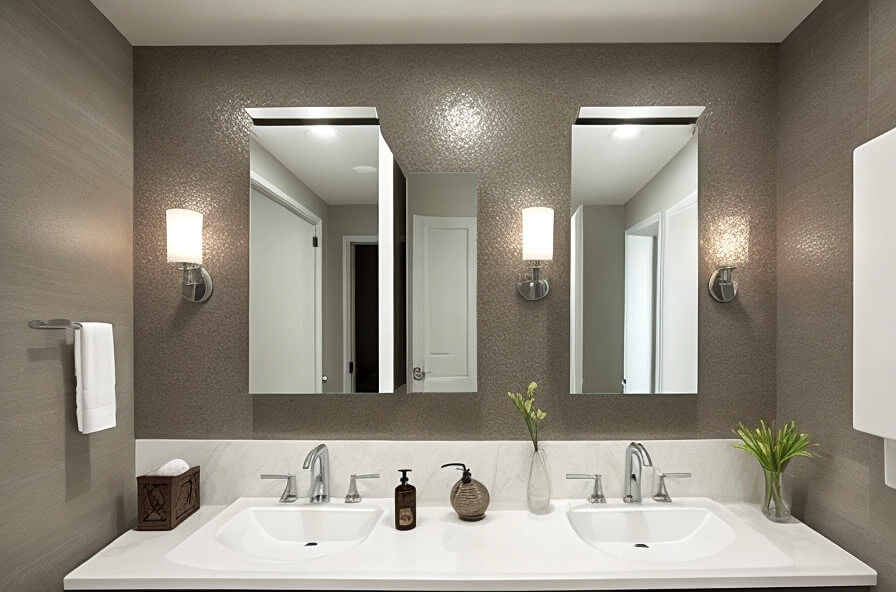 Up your bathroom luxury quotient with high-end mirror selections. Oversized mirrors visually expand smaller spaces. Contemporary frameless mirrors have a sleek, polished look. Smart mirrors come equipped with tech features like touchscreen displays. Lighted mirrors provide a spa-like ambiance. Mirrored cabinets offer concealed storage. Choose custom-cut mirrors with beveled edges for seamless installation. Precious metal frames in gold, silver, or rose gold feel ultra-luxe. Every detail of your upscale bathroom mirror makes a refined style statement.
Space Maximization: Clever Mirror Designs for Small Bathrooms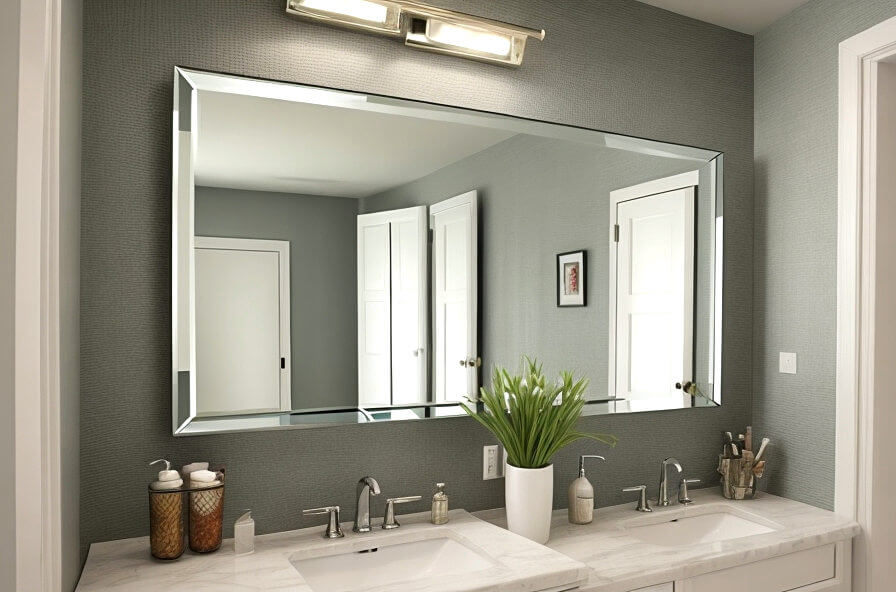 Strategically placed mirrors can help a tiny bathroom feel instantly more spacious. Extend the mirror wall to the wall and the ceiling to the floor to achieve an airier look. Opt for a frameless mirrored cabinet to store essentials. Round mirrors feel more expansive than sharp square corners. Position a mirror behind open shelves or sinks to add depth. The reflective qualities of mirrors can make your tiny bath feel grand.
Nature's Reflection: Bringing the Outdoors into Your Bathroom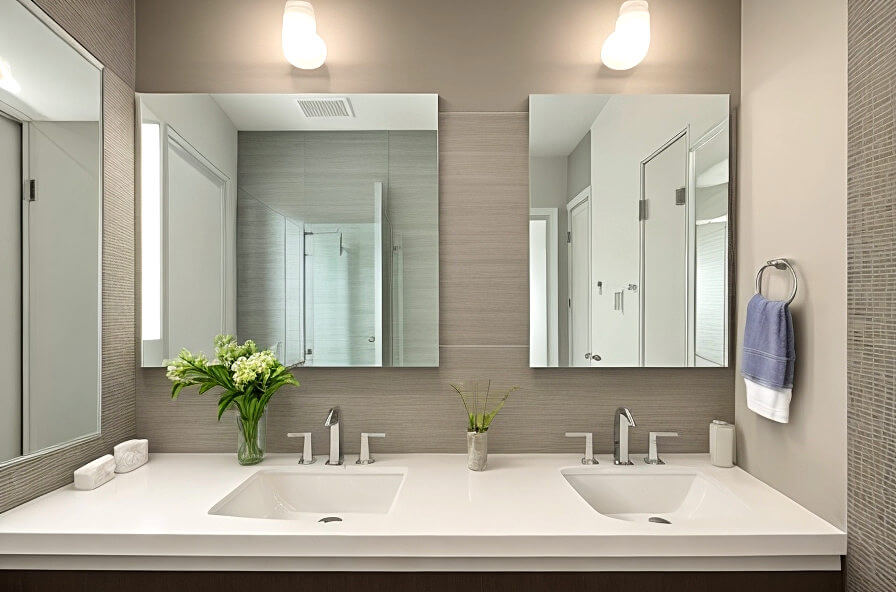 Incorporate hints of the natural world into your bathroom mirror for a refreshing, eco-chic look. Choose mirrors with driftwood or bamboo frames. Surround mirrors with potted plants, flowers, and greenery. Blend living walls or vertical gardens into the mirror space. Look for printed mirror designs with organic patterns. Reflect on views of outdoor scenery with strategically placed mirrors. Distressed mirror finishes evoke weathered stone and wood textures. Let your bathroom mirror reflect the calming, rejuvenating power of nature.
Smart Mirror Solutions: Integrating Technology into Your Bathroom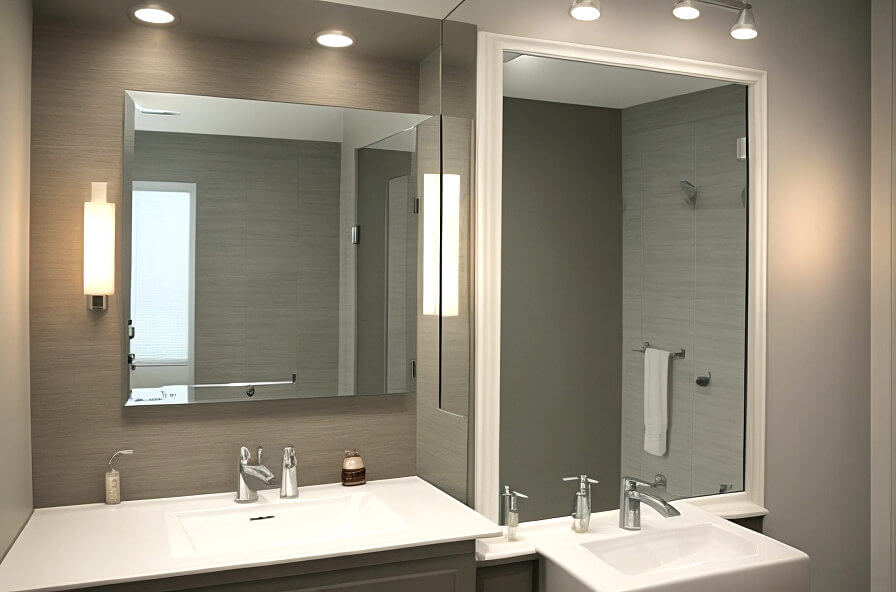 Integrate innovative smart technology into your bathroom mirror for advanced features that add both form and function. Look for mirrors with built-in touchscreens to check emails, stream music, or watch videos. Some mirrors have integrated voice assistants, speakers, and lighting. Others come equipped with anti-fog heaters, perfect for steamy showers. Smart app connectivity allows for customization. Go beyond the looking glass with mirrors that multitask as digital devices and décor centerpieces.
Bold and Beautiful: Statement-Making Mirrors for Bathrooms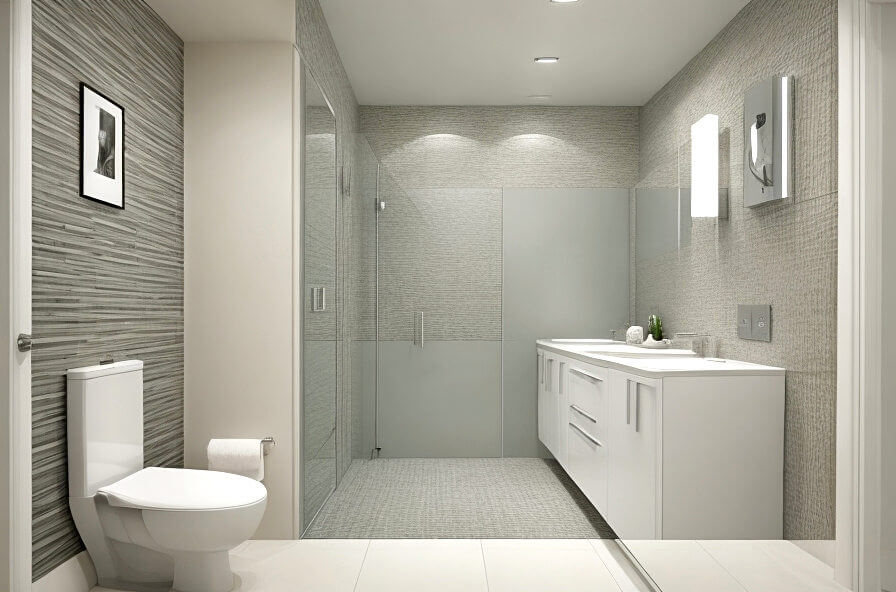 Make a striking style statement in your bathroom with a dramatic, bold mirror focal point. Look for unconventional shapes like diamonds, curved edges, or asymmetrical angles. Oversized mirrors create an illusion of grandeur. Frameless mirrors make a contemporary declaration. Use mirrors creatively on ceilings or as unconventional room dividers. Choose mirrors with daring colors and prints for a vibrant pop. Surround mirrors with sconces, backlighting, and other lighting elements. The right statement-making mirror displays your bold design sensibilities.
Mirror Mosaic: Creative Patterns for Striking Bathroom Wall Mirrors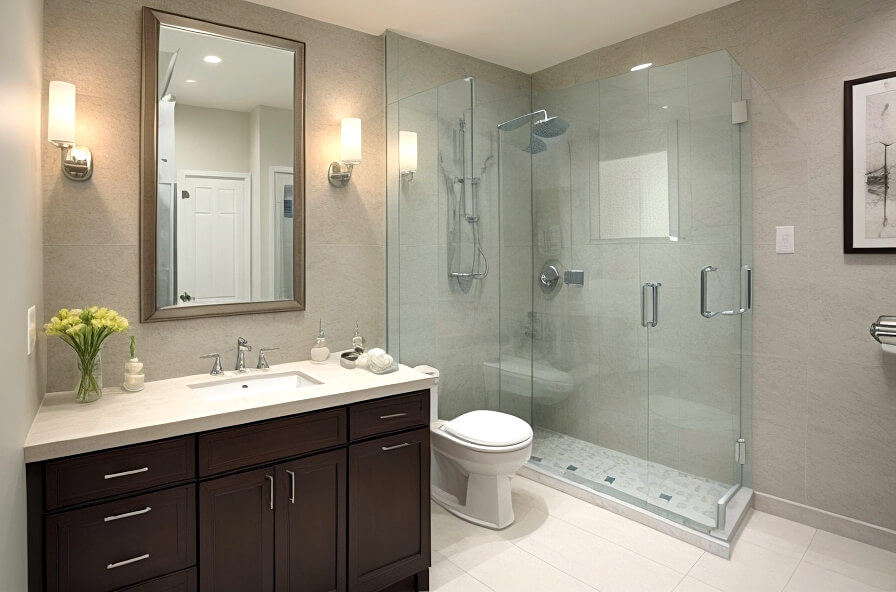 Take your bathroom mirror to artistic heights by incorporating it into striking mosaic wall designs. Outline mirror shapes with intricate tile patterns. Use multiple small mirrors arranged in geometric layouts or organic shapes. Look for wallpaper or decals with mirrored patterns to apply. Incorporate mirrored surfaces into vertical niches or shelving. Play with positioning square and rectangular mirrors in graphic formations. Let mirrors reflect light in a dazzling display for an artistic focal point.
Rustic Retreat: Warm and Inviting Bathroom Mirrors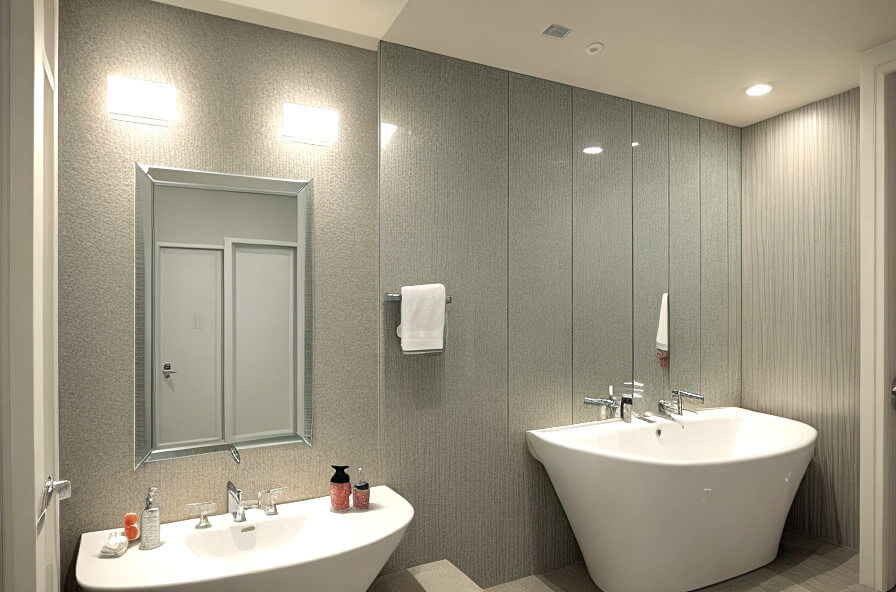 Rustic style brings cozy, earthy warmth to any bathroom. Framed mirrors with reclaimed wood feel welcoming and charming. Look for mirrors with handcrafted iron, tin, or copper frames. Surround mirrors with brick, stone, or wood to create a nature-inspired haven. Use traditional oval mirrors for vintage farmhouse appeal. Position mirrors above classic apron-front sinks. Add urn-shaped sconces, woven baskets, and floral accents to complete the rustic retreat look.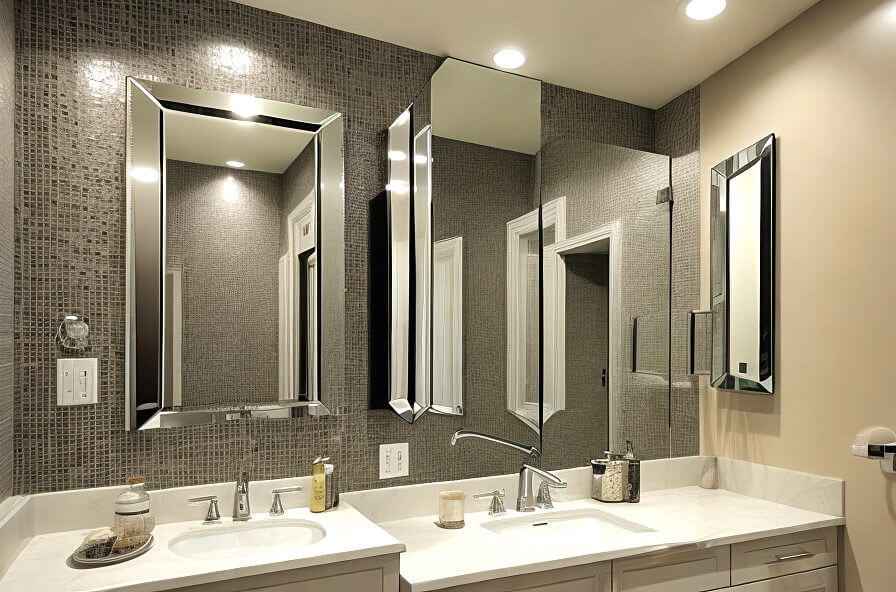 Creating synchronized spaces in a shared bathroom is easy with sets of his and hers mirrors. Hang two separate mirrors above the double sinks. Opt for matching mirrors in different shapes and sizes. Look for mirrored medicine cabinets with built-in storage for two. Frameless mirrors work well combined or kept separate—light individual mirrors separately for personalized grooming. Include personal organizers and wall shelves for customization. His and hers mirrors let you each create your own stylish space.
Mirror Illusions: Playing with Perspective in Bathroom Design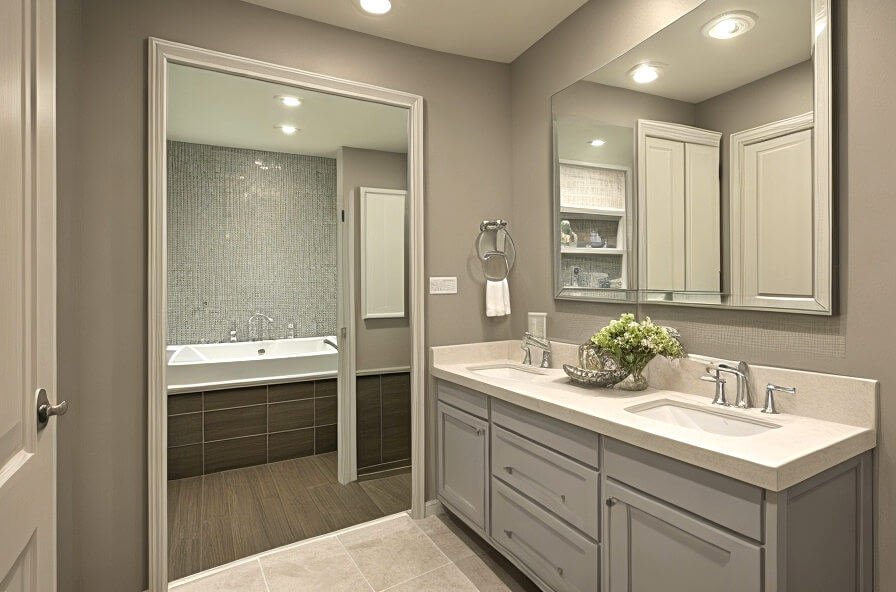 Take bathroom mirrors beyond reflection with clever illusions that play with perspective. Hang mirrored panels perpendicular to each other to add depth. Use concave mirrors for a funhouse effect. Place reflects at angles to create the feeling of a larger room. Arrange offset mirrors to multiply images. Hang a large round mirror above a bathtub for 360-degree views. Add lighting elements like sconces or backlit panels to enhance the effect. Mirrors can reflect, distort, and transform reality in exciting ways.
Mirror, Mirror, On the Tiles: Incorporating Mirrors into Tile Patterns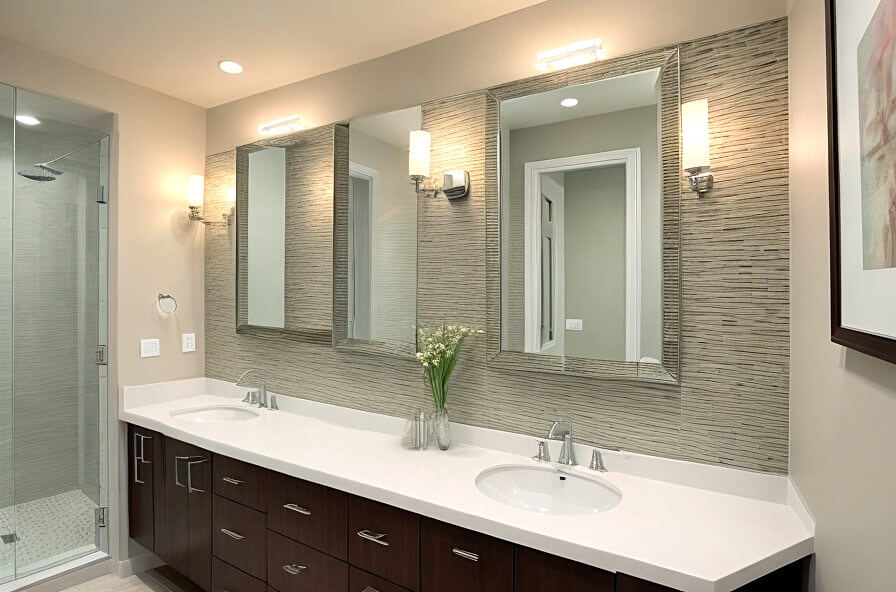 Take your bathroom tilework to the next level by incorporating mirrored tiles and surfaces. Outline mirror insets with mosaic tiles. Use large format mirrored subway tiles for contemporary sparkle. Look for tile with partial mirror fragments for textured shimmer. Incorporate mirrored tiles into niches, shelves, and backsplashes. Place circular mirrors throughout geometric or organic tile designs. Let mirrored tiles catch and reflect light in glistening, artistic methods.
Framed Flourishes: Elevate Your Bathroom Decor with Mirror Accents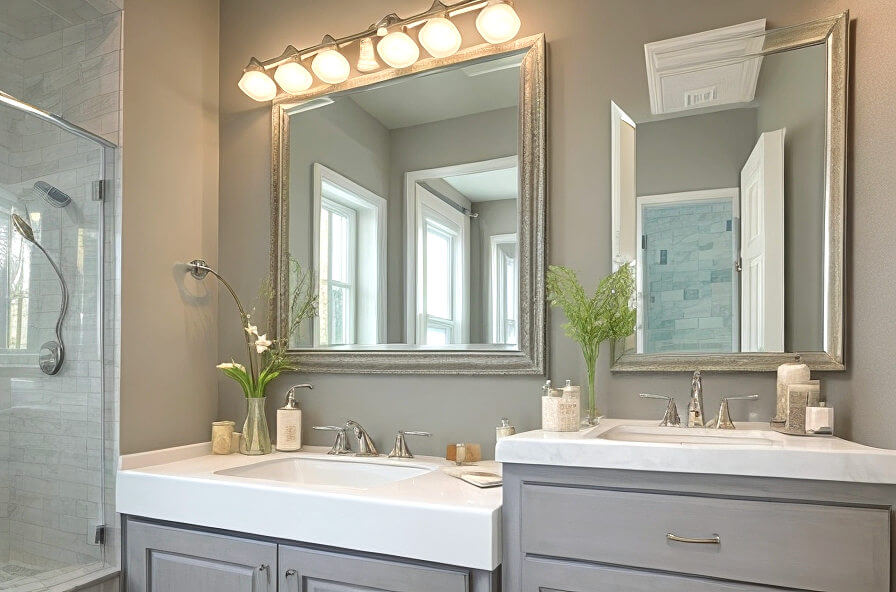 Strategically placed mirror accents are excellent for elevating bathroom style. Look for unique mirror shapes to hang over sinks or behind faucets. Use framed mirrors to highlight wallpaper patterns or tilework. Arrange creative mirror collages using frames in different sizes, conditions, and materials. Outline mirrors with architectural trim for a built-in aesthetic. Apply mirror tiles to add a pop of shine to shelves or niches. Thoughtful mirror accents add the perfect finishing flourish.
Similar Posts: